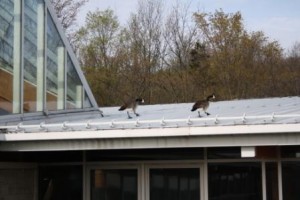 A great message we received from our friends at Ball's Falls Conservation Area:
     "Even the birds are flocking to the "Our Feathered Friends" travelling exhibit  from the Canadian Museum of Nature. Here are images of the Canada Geese who showed up at the Centre for Conservation at Ball's Falls – they must have heard about Migratory Bird Day May 14 and wondered what all the activity is about! They were on the roof looking through the skylight into the atrium where the bird puppets and activity centre is located as part of the exhibit. We can really say our site has something for everyone – including our resident birds."
     The special exhibit will be available at the Centre for Conservation until Sept. 5.