Written & photographed by Chris Miller.
The 29th annual Classics Against Cancer event was held on June 19, 2016 in Georgetown's Cedervale Park. It was a very warm, sunny day, however the heat did not deter the thousands of people who came from Halton Hills as well as out of town to view the hundreds of classic cars as well as movie cars and exotics.
The variety was amazing from more-than 50 Corvettes and Chrysler Mopar Muscle cars as well as the Mustang Corral with many models with lots of horsepower! There were quite a few model Ts and As and of course many American muscle cars from the  '60s. There were trucks and vans as well as some British cars on display. Cedarvale Park was a mass of vehicles. To see a few local dealers like Chrysler, GM, Ford as well as Kia was great. I am sure no one missed the bright red Ferrari (the boss's!) at the Kia display and a bright yellow Corvette Stingray convertible amongst dozens of Corvettes. There were other exotics around the park. Even Batman was there with his Batmobile.
There were many fun things for the kids like the giant balls you can roll around in, just like your pet hamster does! You could listen to great music from Rolly Rocker and the Hemi Heads as well as terrific Buddy Holly and Elvis Presley tributes. The M.C. Dan Wagstaff kept things going through the day with many announcements. There was a 50/50 draw and of course awards for "best in show" and others. There were many food vendors as well as other vendors and free McDonalds' coffee.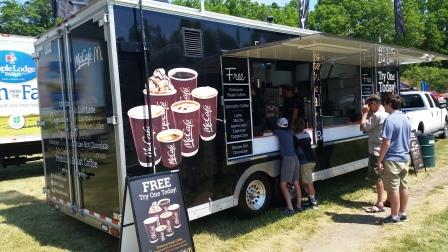 All in all, it was a fantastic show, one of the largest of its kind in Ontario. Now we gear up for our 30th.
Chris Miller is on the marketing committee. He notes "It was my 19th year on the 19th!"