Six homes were decorated for Christmas for the United Way of Halton Hills House Tour held on Nov. 17. All photos here by Mike Davis.
The Bak residence in Glen Williams has a large, sunny family room off the kitchen.
The open kitchen was the reason the Baks bought the house. All decorating was done by homeowner Mary-Lou Bak.
The Gallaghers' old limestone farmhouse in Glen Williams has a large wrap-around porch that invites lounging.
The kitchen in the Gallagher house has been completely updated.
Decorating was done by Kas Interiors, Allison's Farm Market and Vanderburgh Flowers & Gifts.
The little red house in Glen Williams, circa 1850, was thoughtfully renovated by the Elliot family. It was recently featured in "4 Houses Canada" on HGTV.
The Elliots' mud room, converted into a dining room, seems to be lit by stout candles, which are actually one dramatic electric light fixture.
Decorating thanks to The Taggart Team and Lasting Impressions, Holiday House Tour Committee and Sobey's.
When your pool shed is as handsome as the one in the Balogh back yard, it can easily become cute for Christmas.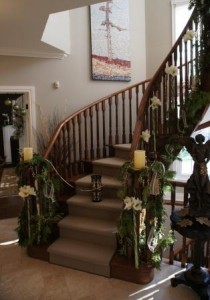 The Balogh residence in Georgetown has a striking curved staircase worthy of dressing up.
Decorating by Karen Timms-Decorating Den Interiors, Andrea McGill and Vanderburgh Flowers & Gifts.
Non-traditional colours still manage to evoke Christmas in this elegant living room in the Carney house in Georgetown.
Simple, lavish greens contract powerfully in the Carneys' white kitchen.
Decorating was provided by Dini Lamers-Dini & Co., Andrea McGill and Blooms Away Flowers & Gifts.
Designed by Sarah Richardson, Georgetown's Buligan residence is subtly decorated for Christmas.
One festive touch enlivens the elegant simplicity of this gorgeous bathroom in the Buligan house.
Decorating was the work of Emerald Isle, Helen Webb of The Club at North Halton and Vanderburgh Flowers & Gifts.
Do you like any of these? Why or why not?