By Chris Miller
It was a record show in many ways: the largest attendance in 40 years, almost 340,000 visitors, Electric Avenue, a special area with numerous electric cars, Art & the Automobile, Castrol Alley with many vehicles from Legendary Motorcar Company headquartered in Milton, and one of the largest refurbishing auto companies in North America, 50 years of Grand Prix in Canada and Auto Exotica, as well as numerous other exhibits.
This event is quite spectacular and great for car shopping/tire kicking, which I did. Most manufacturers showed their high-end vehicles or top-of-the-range models. There were the usual manufacturers that had offerings for less than $20,000, however you would have a better chance of seeing the higher-end models. I would say that today's average car purchase would set you back close to $30,000.  
What is showing an increase in popularity is the hatchback. Almost all small car manufacturers offerings have at least one in their compact range, showing the sportiness and convenience of the hatch. From the eternal Golf to Chev and the Koreans and most Japanese, manufacturers offer hatches. If you ever visit Europe you will notice that most of their cars are hatches. But of course this is Canada and the truck reigns supreme both in size and in showings of models from North America, the big three to many Japanese. Almost all manufacturers today offer a range of SUVs which outsell cars.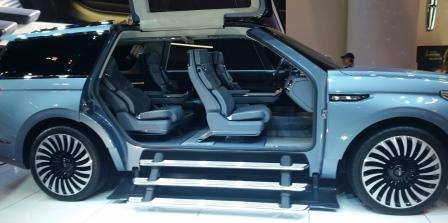 Let's not forget some of the other amazing exhibits. A walk through Electric Avenue is a step in to the future of the automobile. Include in this the various innovative systems like adaptive controls and I would say in 10 years we would have a "mobile section" where vehicles would run on electric power without a steering wheel, driving themselves around the exhibit without crashing in to each other. All you would do is stare in wonder of where we have come in a short time. Close your eyes and imagine this exhibit in 2027. Come back then and see if I am correct. See you then!! Well actually don't skip 10 years. In fact there were already a couple of concept vehicles on display, without a steering wheel or pedals!
The Exotic showing was amazing, especially the Bugatti Chiron. I don't know if they would take an exchange for your 3.5-million dollar mansion! Top speed, like a high- speed train in Europe or China, some at 430 KPH. That's correct, but what do you expect from 1500HP? There were a number of "classic" racing versions of the wonderful Ferrari, of course all in red. There was even a Bentley SUV and an amazing-looking Rolls convertible, a number of Mclarens, Lambos and so many more. What a treat. 
There was the terrific classic car display from Cobble Beach Concours d'Elegance as well as Legendary, already mentioned. The Canadian Stories, the Art and the Automobile showed some cars over 120 years old and electric!! This amazing display traced some real "old" Canadian manufacturers as well as some truly beautiful classic cars from Europe and North America. 
With 650,000 square feet of space and 1,000 vehicles and this year 41 new product launches, this event is indeed world class. I hope many of you readers had an opportunity to visit this, the largest commercial show in Canada. If not, don't miss next year and of course 2027!