EVerything Under One Huge Roof:
The 50th anniversary of the Canadian International Auto Show
By Chris Miller
At the opening of media day, a number of ministers attended, including the federal minister of innovation, science and industry. The all-new Canadian Project Arrow EV was shown and is an exceptional vehicle.  50 companies worked together to create this SUV and what an eye catcher the Project Arrow is. Congratulations to BMW, awarded the Automobile Journalists Association of Canada car of the year and Hyundai the SUV of the year. What a wonderful way to start the 50th Anniversary of this EVent.

Only three manufacturers actually had official product launch presentations: Hyundai, Kia and Subaru even though there were many more new models at the show. For some reason the manufacturers decided not to have a media day launch.

EVeryone visiting this huge EVent should be impressed with the various displays and "test tracks" including many EVs to test drive, including Sarit urban EVs and an amazing Jeep course. The famous Cobble Beach classic car EVent had a wonderful display celebrating 75 years of Porsche. The 14 displays at the Electric City proved very popular. There were EVs EVerywhere.

There were some other interesting displays including vehicles designed to assist with mobility issues. Roshell showed their military vehicle which is being used extensively in Ukraine, made right here in Ontario. Hot Wheels, celebrating 50 years, showed off some full-size vehicles that depicted exact models and there was a full-size Lamborghini made from Lego blocks. There was an extensive display of many makes and models of exotic cars, up to over three million dollars in value!

The first two days had record attendance, as everyone seemed glad to be at a car show after two years of no event. Of the more than 36 EV vehicles, representing some 20 manufacturers, many had no exhibit, which was surprising. This event is a huge showroom and demo place for future auto purchases, which I can show by a personal story. Three years ago, I was shopping for a new Hyundai. At the Auto Show, the Ioniq Hybrid caught my eye. A Hyundai representative saw me sitting in the driver's seat and after a good 10 minutes of a full demo of the features and benefits of this vehicle, I was sold. I told him this will be my next car. Due to my visit to the show, our family has purchased FOUR Hyundais. So do the math. This event is vital for exposure and selling of new models for EVeryone and is indeed an EVolution of the future where EVs will be the vehicle of choice.

We want this planet to be EVergreen and nEVer should guzzle gas in the future.
Some highlights from the show:
Automotive Journalists Association of Canada presenting its Car of the Year Award to the BMW i4 and its Utility of the Year to the Hyundai IONIQ 5 – both of which are fully electric vehicles.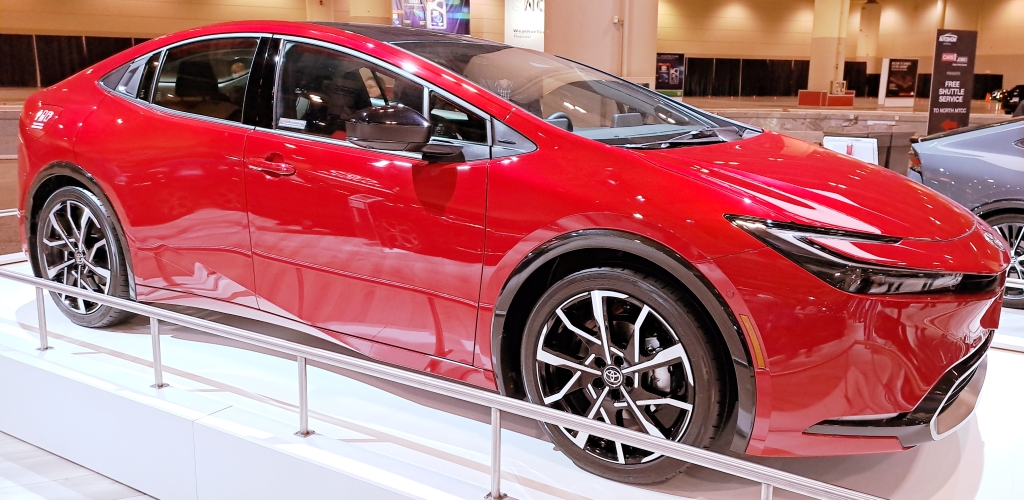 Celebrating its 50th year, the Canadian International AutoShow features more than 650,000 square feet of exhibits, displays and attractions spanning the North and South Buildings of the Metro Toronto Convention Centre. With an annual attendance in excess of 330,000, the Canadian International AutoShow is not only the largest automotive expo in Canada, it is also the country's largest consumer show. A leader in lifestyle, technology and all things automotive, it is a showcase for the latest cars, trucks, SUVs, concept cars, exotics, classics, muscle cars, electric and alternative fuel vehicles.
The AutoShow continues until February 26th. Guests are reminded that peak hours are between 1 p.m. and 4 p.m. Tickets are discounted $6 after 6 p.m. For more information or to buy tickets, please visit autoshow.ca.