All photos by Mike Davis who can handle anything alive.
The 13th annual Halton EcoFest on April 6 in Oakville had a focus on biodiversity, a theme which fits well with the Niagara Escarpment. Above, a photo of me with the snake whisperer (not his real title) Ross Blackwood of Sciensational Sssnakes!! holding a Black Rat Snake, whose habitat is actually near Kingston, Lake Erie and Lake Ontario, not so much the Escarpment. But this isn't the case either, with the baby kangaroo, lion cub and lemur that were also available, from Ron Woolley of Exotic Critter Tales.
The Halton Eco Festival has been organized by the Oakville Community Centre for Peace, Ecology and Human Rights for 13 years. This group relies on donations to do its work.
We had a corner spot which gave us good visibility. Can you tell that we were giving away free back issues? Next to us was Brenda Dolling, a subscriber, of Whole Village EcoVillage, an advertiser. I think she's at every show we go to. She is one hard-working retired teacher!
Halton Peel Biodiversity Network, an advertiser, was a main sponsor of the EcoFest, and shared space with Protect Our Water and Environmental Resources.
The birds of prey are always hugely popular. Mountsberg Raptor Centre of Conservation Halton, an advertiser, displayed some of their birds, as did Wild Ontario. The saved, non-releasable birds of Wild Ontario, pictured above, are an American Kestrel and a Red-Tailed Hawk.
Jenny Pearce of Sciensational Sssnakes!! also educated people about this male Snapping Turtle. She was careful to keep everyone away from him. His huge mouth means business.
Warning: from here, this post contains photos of a snake and may be alarming to some people. Viewer discretion advised.
I also tried to get close to a snake. I'm not petrified by snakes, but they definitely give me the creeps. But I was willing to try to touch one. As long as the snake's head could be kept away from me. A snake's head is a frightening thing.
So I was hesitant, but I agreed to feel the back half of the Black Rat Snake. Man, that's a long snake, about three feet. It wasn't slimy or cold, but felt like snakeskin shoes or purses in expensive shops.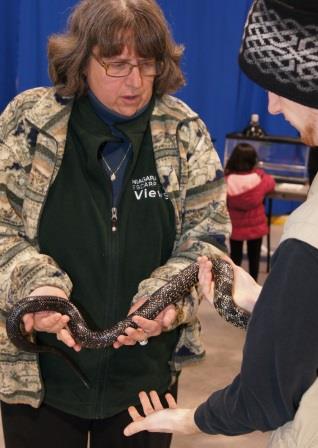 Then Ross put the snake onto my left hand. I'm keeping an eagle eye on the snake's head.
My stress level is going up as the snake moves through my hands. Note its tail wrapping around my arm! I wasn't aware of this at the time.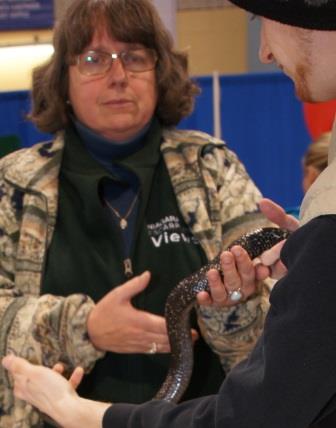 This photo doesn't have me in sharp focus but it shows how I was feeling: a little green. I'm starting to hand back the snake.
I really am holding the snake with all the fingers of my right hand. Hard for me to believe. Ross was really great about letting me do all that I felt I could handle – which turned out to be a lot more than I had expected. After I had given back the snake, I felt very dizzy and light-headed. I think I had been hyperventilating while holding it.
How about you? Are you squeamish about any animal? Are you okay with snakes?