We're happy to share this news just in, about new Escarpment lands to be protected:
Hamilton Conservation Authority has successfully acquired a new parcel of land as a part of their Wetland Restoration Project and the new East Escarpment Conservation Area. The 10.18 hectare (25 acre) parcel of land is located on the east side of Fifth Road East and contains part of the Vinemount Swamp Provincially Significant Wetland as well as floodplain lands associated with Stoney Creek. With this acquisition and the three land parcels previously acquired (102 acres), (76 acres) and (42 acres), that brings the total lands acquired to 99.15 hectares (245 acres) of land that can be used for flood storage, low flow augmentation and natural heritage conservation.
The goal of this project is create a new conservation area in the east end of the City of Hamilton, specifically the Upper Stoney Creek and Upper Battlefield Creek watersheds above the Niagara Escarpment, to provide natural hazard attenuation, natural heritage enhancements and recreation opportunities. To achieve this, the Hamilton Conservation Authority proposes:
To utilize the floodplain areas of Upper Battlefield and Upper Stoney Creeks to retain water to provide flood attenuation both above and below the Niagara Escarpment within these watershed areas.
To enhance and enlarge existing wetland areas and to create new wetland areas to provide enhanced wetland hydrologic function to reduce the impacts of high water events and provide water to area watercourses during low flow periods.
To restore the natural features and functions of the watercourses in the area.
To restore, enhance and enlarge the natural heritage features associated with the floodplains, wetlands and watercourses of the area.
To provide linkages within and between conservation area lands by utilizing the Dofasco 2000 Trail
To enhance and create passive recreational opportunities along the Dofasco 2000 Trail.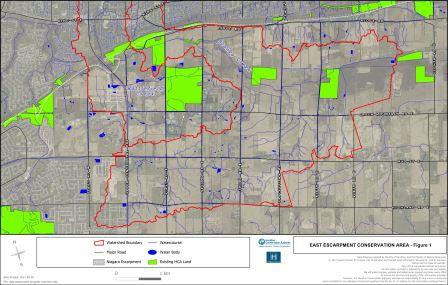 The HCA is currently undertaking an environmental assessment for this project and further information can be found at https://conservationhamilton.ca/flood-and-erosion-control-study-stoney-creek-and-battlefield-creek/